Talking about WIC with Healthcare Providers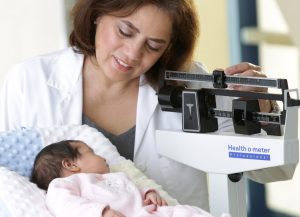 When speaking to a healthcare provider about WIC, we encourage you to use the messaging language below:
WIC is here for your patients. Many people don't realize they're eligible for WIC benefits, so we need your help to spread the word. Your patients can find out more by calling us or visiting us online. Those who currently receive Medicaid or SNAP benefits automatically qualify for WIC. Your patients can learn more about WIC by going to signupwic.com.
Keeping kids healthy requires more than regular doctors' visits. When you refer income-eligible women who are pregnant, post-partum, or have infants or children up to five years old to WIC, you're helping to ensure they have the wholesome food, nutrition education, and community support to keep their child healthy between doctor visits.
WIC is for all working or non-working moms and moms-to-be who meet certain income requirements—in fact, we serve over half of all infants born in the US.
WIC has nutrition experts who can educate your patients about making healthy choices that work for them and their family.
WIC can give your patients wholesome food as well as guidance on how to shop for, prepare, and incorporate healthy food into their family's lifestyle.
Our staff includes nutritionists, lactation consultants, professionals and peers—all ready to listen, share information, and provide guidance and moral support to your patients.
We check up on the health of your patients and their children at least every six months.
We can connect your patients with resources outside WIC—including healthcare professionals like dentists and pediatricians, immunization services, substance-abuse counselors, domestic-abuse counseling, and social services